sslightly sslimmed.
Sometimes, slight changes make a difference. "sslightly" is a free alternative skin for bx_console SSL 4000E.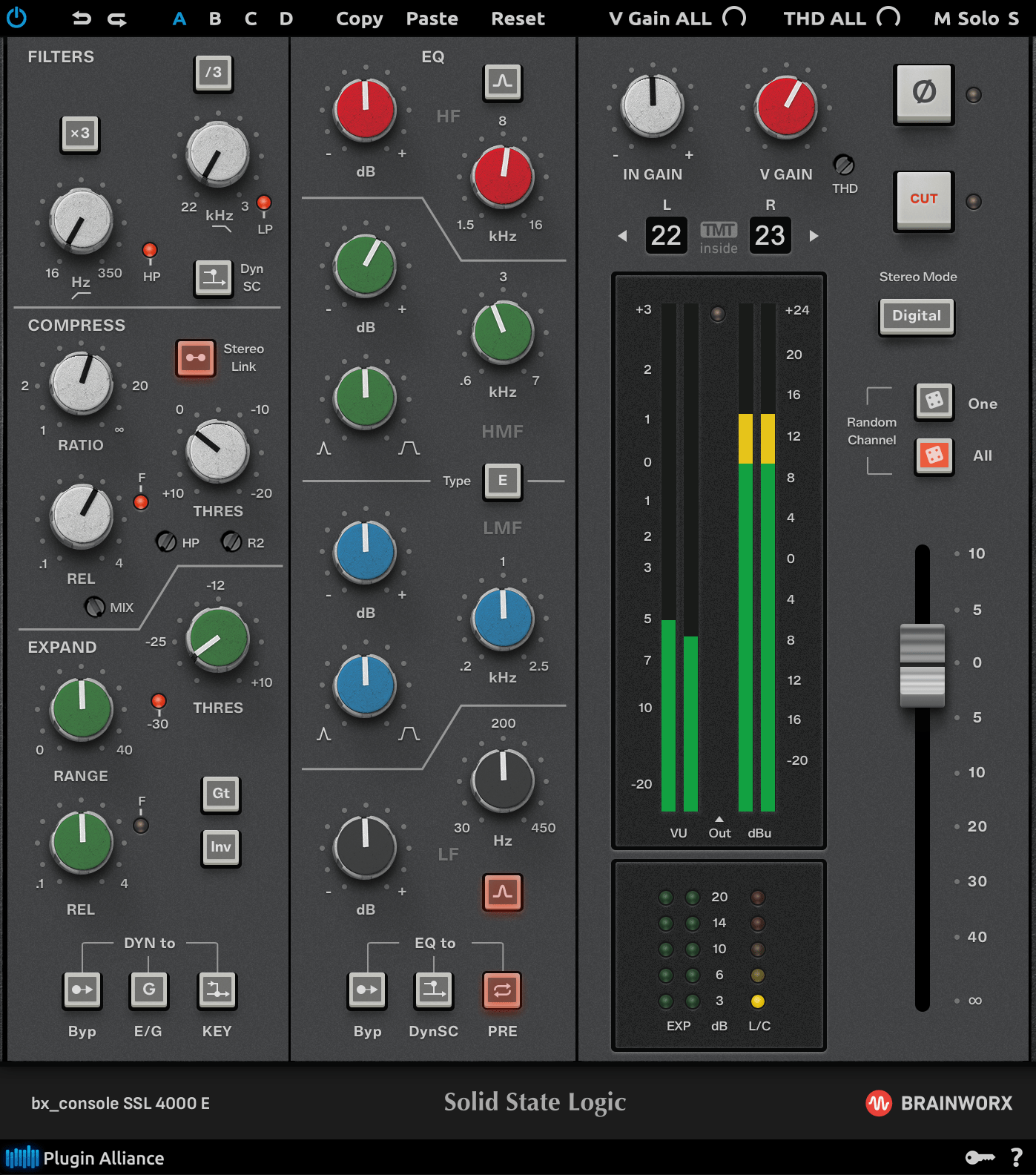 2020 is a leap year and Plugin Alliance is holding a big sale. To celebrate that, we share this skin for free! To have choices is to have fun. "sslightly" has different tastes from the original GUI.
Some aesthic elements like screws, metals are removed. Some knob values are also removed for plainer look.

Each UI element is slimmed down (shrunk), to leave good space between components for less feeling of oppression.

The overall coloring is lighter than the original. The orange VU meters are also changed to green for more relaxing taste.
How to Install
Since Brainworx doesn't officially support custom themes, you need to replace the resource files manually, which might seem burdensome for those who are not familiar with this kind of stuff. Here's the brief instructions:
1.Find the plugin resources folder.
On MacOS it is "Macintosh HD/Library/Audio/Plug-Ins/VST/Plugin Alliance/bx_console SSL 4000 E.vst"→ Right click and "show package contents", then "Contents/Resouces/". (AU plugin resides in "Plug-Ins/Components" folder.) On other OSs…Good luck!
2. Make sure you make the backup of resource files!
3. Replace (overwrite) the image files. Note that not any of the original resources are included there (on account of copyrights). Do not delete the original resources. Instead, just overwrite some of the images with the ones provided.
As this is a totally free-giveaway item, no support is available. Please do everything yourself, on your own responsibility.
Release Notes
All changes are listed here.
v1.0.1 (2020.3.5)

| | | |
| --- | --- | --- |
| fixed | Exp | The image for "G Type Expander background" was missing. It's now added. |
v1.0 (2020.2.29)

| | | |
| --- | --- | --- |
| Released | – | The very initial release |